At Open eLMS we've been shaking things up since way back in 2003, and we're pretty proud of our accomplishments. We've even been recognized as the top LMS in Sourceforget and we've got a rockin' 4.8 rating in Capterra.
So, what exactly is openelms.ai? Well, it's an AI-powered eLearning system that lets you create courses from a single line of text. Yup, you read that right – just one line. Pretty cool, huh?
And the best part is, you can use Openelms.ai as part of the Open eLMS Learning Management System, or as a standalone system with any third party LMS. We're all about flexibility and making your life easier.
So, if you're ready to revolutionize the way you create eLearning courses, give Openelms.ai a try. We can't wait to see what you create!
Any decision to adopt Open eLMS is usually attributable to two factors:
Creating eLearning content the traditional way involves a lot of steps – you need a subject matter expert (SME), a designer, project managers, and more. It can take a lot of time to coordinate everyone's schedules, get everyone on the same page, and actually create the content.
But with eLearning designed by AI, the process is handled in seconds. Our system uses natural language processing and machine learning algorithms to analyse your requirement and create eLearning courses automatically. There's no need for a SME, designer, or project manager – it's all done by our AI.
So there you have it – eLearning designed by AI is quicker because it cuts out a lot of the time-consuming steps involved in traditional methods.
Open eLMS is stuff full of design heuristics and machine learning algorithms to understand the context and meaning of your content, and then design screen that are suitable. Layout, image production and video content are all laid out in virtual learning worlds, in a way that is engaging and immersive.
The eLearning produced is not a PowerPoint style presentation or vertical scrolling webpage. AI allows you to have eLearning design that is formerly the sole realm of large budgets and months of development.
Plus, our system is constantly learning and improving. As you use it to create more and more courses, it gets better at understanding your content and creating courses that meet your needs. This means that the more you use our system, the better your courses will get.
With Openelms.ai, you can create eLearning courses for around the cost of a cup of coffee per course. How is that possible, you ask? 
Because our system is designed to automate the eLearning creation process, we can offer our services at a fraction of the cost of traditional methods. There's no need for an SME, designer, or project manager – everything is done by our AI.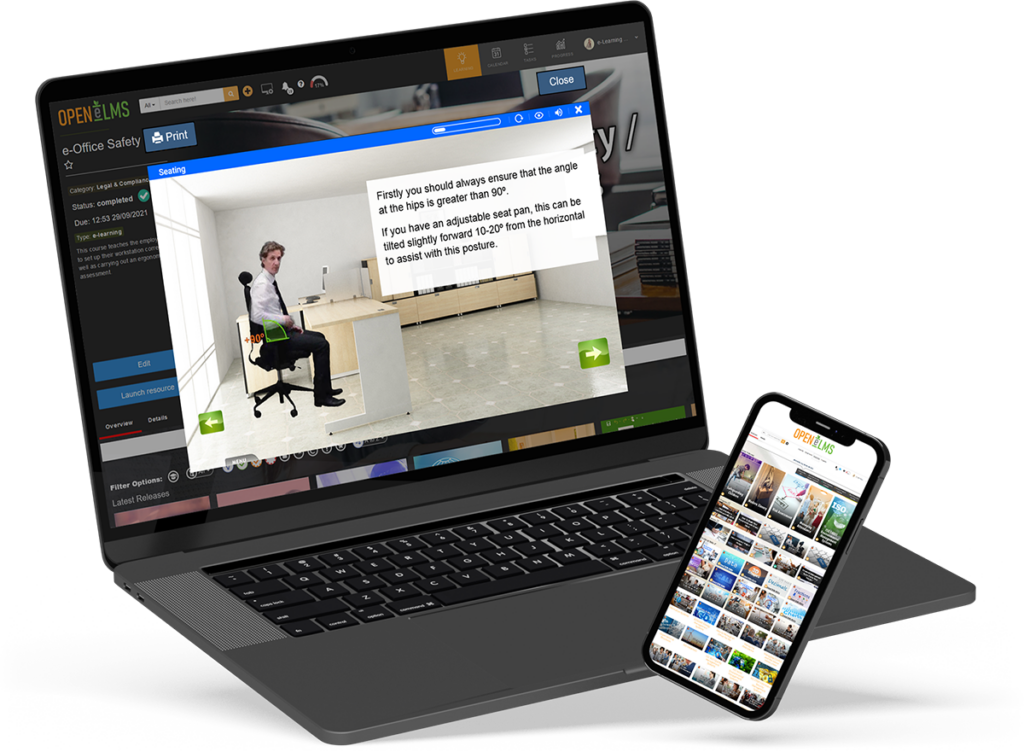 We recommend the following podcast made by BML Digital on business transformation. This demonstrates the passion we put into the design of Open eLMS.  Click here to listen to the podcast!
Don't rely solely on our word. See this recent review of Open eLMS from industry gurus – 
Learning Light
.
At eLearning WMB we aim to make a difference to the world in which we live. Our core values of honesty, fairness and inclusion are inherent in what we supply and how we treat people. Our code of conduct puts these words into action. This includes:
Creation of free learning resources to help society (e.g. free Coronavirus Awareness, Black Lives Matter etc. elearning)
We pay suppliers on receipt of invoice – we understand that waiting terms can kill small firms
20% of all profits are shared by employees – one of the reasons why our staff generally are long standing
Sponsorship of local sports teams, encouraging young people to adopt a healthy lifestyle
Encourage a diverse and inclusive atmosphere at work. Processes are in place to measure and foster diversity.
eLearning WMB are committed to combating climate change, with 1% of all online sales going towards CO2 extraction.
See our code of ethics for further information.
Although the management team have been together since 1993, eLearning WMB was formed in 2003. Since then, a lot has changed…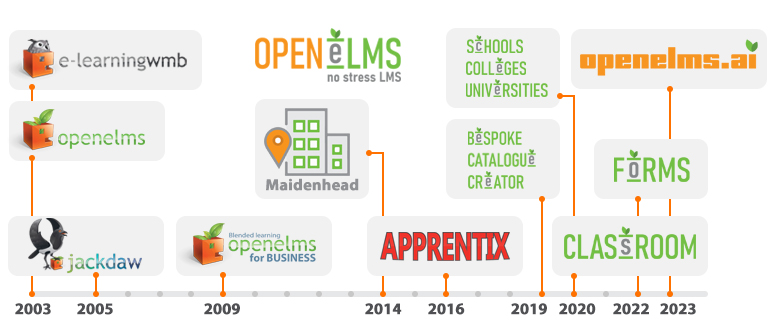 2003: Open eLMS (originally called eLearning WMB) is founded
2003: Open eLMS Learning Management System V1 is launched
2005: Open eLMS Creator (formerly Jackdaw) authoring tool is launched
2009: Open eLMS for Business is launched
2014: Maidenhead HQ opens as company grows
2016: Open eLMS for Apprenticeships (formerly Apprentix) is launched to cater for apprenticeship delivery
2019: All products fall underneath the Open eLMS brand.
2020: Open eLMS for Schools, Colleges and University is created
2020: Open eLMS Classroom Launched
2022: Open eLMS Forms added
Contact us for a complete list of company metrics.